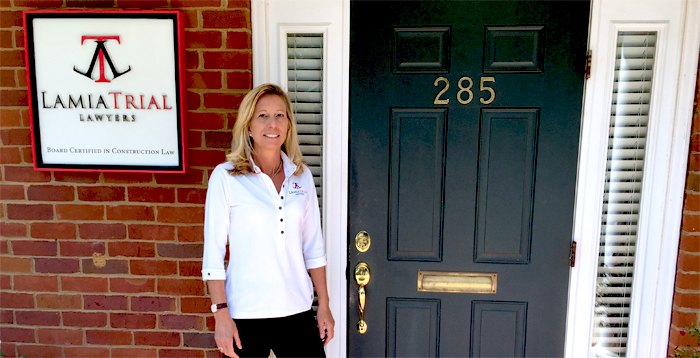 Christine E. Lamia is the founder and lead trial attorney of Lamia Trial Lawyers. Admitted to the Florida Bar in 1988, Christine has been practicing law for over 28 years. She has litigated in the Florida administrative, state and federal courts, in addition to the state and federal appellate courts. Christine is a member of the United States District Court for the Northern, Middle and Southern Districts of Florida and the Court of Appeals for the Second and Eleventh Circuits.
Christine is Board Certified in Construction Law. Her know-how and experience helps clients anticipate problems before they have a chance to become expensive liabilities. Christine also serves as a Supreme Court appointed Member of the Committee on Standard Jury Instructions in Business and Contract Cases.
Graduated in 1987
MERCER UNIVERSITY
Walter F. School of Law
Juris Doctor
Lamia Trial Lawyers, P.A.
285 Pinewood Drive
Tallahassee, Florida
December 2011 to Present
Of Counsel Litigation Supervisor
Bryant Miller Olive, P.A.
Tallahassee, Florida
March 2008 to November 2011
Adjunct Professor
Florida State University School of law
Tallahassee, Florida
Construction Law
Senior Assistant Attorney
Office of General Counsel
Dept. of Environmental Protection
Tallahassee, Florida
Feb 2005 to March 2008
Christine E. Lamia
Sarasota, Florida
Jan 2003 to Feb 2005
Managing Attorney
Litigation Supervisor
Becker & Poliakoff, P.A.
Sarasota, Florida
March 1997 to Dec 2002
Associate
Abel, Band, Collier, Pitchford & Gordon, Chtd.
Sarasota, Florida
March 1992 to March 1997
Associate
Byrd & Murphy, P.A.
Fort Lauderdale, Florida
April 1988 to March 1992
Graduated in 1984
FLORIDA STATE UNIVERSITY
Bachelor of Science in Communications
Minor in English
Represent national franchise Restaurant Corporation in breach of contract and business tort litigation brought by area sales developer.
Represent business owners and employees with respect to employment contracts and termination agreements.
Representing government and private clients with issues ranging from conservation of lands and resources, water quality regulations, alleged violations of government regulations, coastal armoring permitting, property rights and development rights.
Represent contractors with respect to construction disputes with owners.
Represent owners with respect to construction disputes with contractors.
Represent owners and contractors with respect to Florida licensing issues before the Department of Business and Professional Regulation.
Represent homeowners and condominium associations with respect to contractual disputes.
Christine and Elly Mae like to enjoy some down time at the office
Zonta Club of Tallahassee
Good Samaritan Network
Elder Care Services
Chelsea House
Christine Lamia has been a sought after speaker by Sterling Education Services for commercial, tenant, and construction laws. She provides continuing education to meet their licensing requirements and to learn current changes in the laws relevant to their industries.